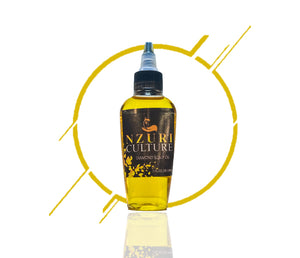 Nzuri Culture "Diamond Scalp Oil" 2oz
Pstyles "King of Diamond Parts" unveils   Diamond Scalp Oil to hydrate your scalp and absorb the benefits of each ingredient.

Soy Oil:  Contain vitamin E, Smoothens cuticle, delay aging of scalp, promotes hair growth and moisturize

Jojoba Oil:  Maintains scalp natural balance and moisture which is comparable to sebum that your scalp naturally secretes, improves hair's elasticity, prevents dandruff and dry itchy scalp, promotes hair growth and moisturize.
Avocado Oil:  Rich in Vitamin B and E, moisturize and increase sheen to hair, restores strength to dry brittle damage hair.
Castor Oil:  Natural antibacterial, antifungal properties, rich in vitamin E, mineral, proteins, omega-6 which make it a superb moisturizer for hair and skin.
Lecithin:  Improving hair strength and elasticity, adds sheen and seals in moisture.
Rosemary:  Aids in circulation which promotes hair growth, treats dry flakey, itchy scalp and prevents premature gray.
Apply directly to scalp.